---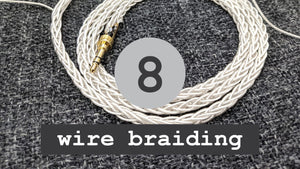 ---
---
Ever wanted to try your hands on building your own cables? In this 2 part episode, we will be going thru in depth how to start, braid and finish making your very own DIY custom IEM or headphone cable.
In part 2, we will be showing you how to end the braiding and split up the wires and finish the iem cable, happy DIY-ing!
We are a new channel from Singapore. sgaudiohive specializes in audio cables, earphone / headphone repairs and modifications and IEM building. Do support us by subscribing and following our social media!
[WEBSITE] : https://www.sgaudiohive.com
[FACEBOOK] : https://www.facebook.com/sgaudiohive/
[INSTAGRAM] : https://www.instagram.com/sgaudiohive/
[EMAIL] : sales@sgaudiohive.com
[WHATSAPP] : +65 9889 4483
Do also comment on what we should improve on for the video quality and also let us know what you would like to see in the future!
---